Life Insurance
Life Assurance 360™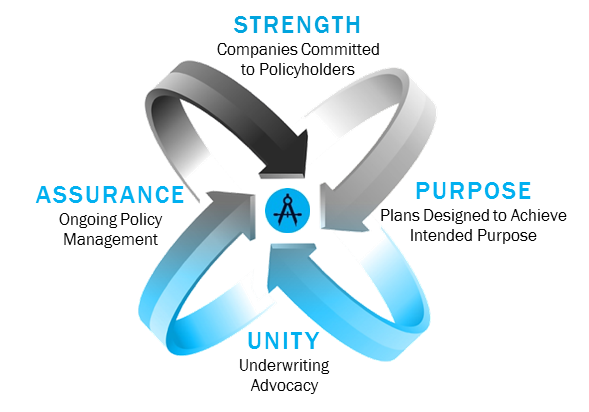 Since life Insurance is a financial instrument that makes a projection today of what may happen 30 or more years in the future, we take a careful, purposeful approach to designing each plan based on your unique needs and servicing those plans to ensure they remain on track. We call our approach Life Insurance Architecture.
Marcus Vitruvius , a Roman statesman, architect, and engineer in the first century BC wrote the first manuscript on architecture, which discussed three elements that all structures must possess to withstand the test of time. He believed that they must possess strength, they must be tailored to suit a particular purpose, and must have parts that are in perfect unity. Although he was referring to the elements of physical structures, we believe his philosophy applies with equal force to life insurance. We adopted this thinking and added a fourth element of ongoing management because without the proper care, even the soundest structures are prone to failure. All four of these elements create the Life Assurance 360 process, which is our version of life insurance architecture.
Click HERE to view our Life Assurance 360™ brochure
---
Underwriting Advocacy™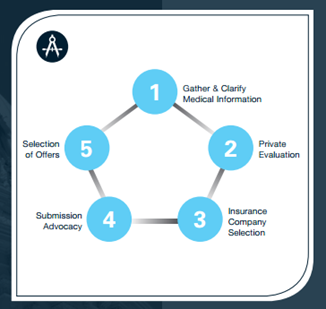 Underwriting is the process of unifying theoretical plan design with the reality of your medical information. The life insurance application process can produce many unintended results if it is not managed proactively and with the proper amount of expertise. We have found that the key to avoiding unwanted surprises in this critical step is to have knowledgeable professionals advocating at the carrier level on your behalf. That is why we have carefully assembled a team of former insurance company underwriters and a licensed physician to manage the process with your privacy and well-being in mind.
Using our knowledge of how carrier underwriters, medical directors, and actuaries make decisions, we leverage our insight to confidentially represent, clarify, and coordinate the details of your application throughout each phase of the underwriting process. By proactively addressing negative information, we position you in a positive light to the carrier and remove as many surprises as possible to obtain favorable underwriting offers that effectively lower your cost of insurance.